Chandi Homam is considered as one of the most religious ritual performed by Indians all over the world. In India, this ritual is very famous in the states of Karnataka, West Bengal, Andhra Pradesh, Telangana and Tamilnadu. This ritual came to lime light when Ayutha Chandi Yagam was performed by Telangana Chief Minister, Mr K Chandrasekhar Rao for the well being of entire humanity in 2015. Let us understand more about this popular ritual in detail.
We have created a small video answering all of these common questions around Chandi Homam. Please check this out.
What is Chandi Homam?
This Homam is performed to seek the blessings of goddess Chandi. Goddess Chandi is the combined form of Parvati, Lakshmi and Saraswati. She is one of the most ferocious avatar of goddess Durga. The stories about her ferociousness is mentioned in Devi Mahatmya. Chandi Homam consists of 7000 slokas.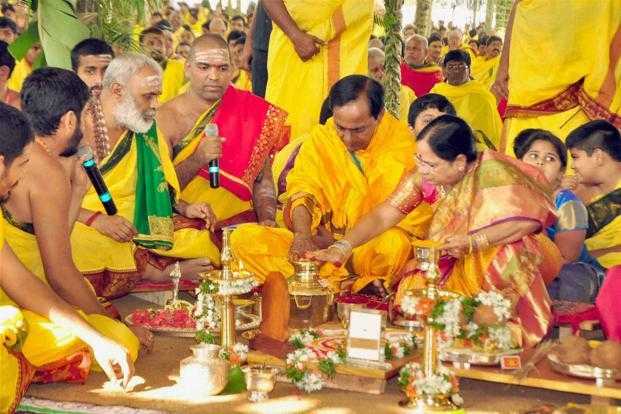 What is Ayutha Chandi Yagam?
Chandi Homam when performed on a very large scale is referred to as Ayutha Chandi Yagam. Ayutha Chandi Yagam has two major steps in its procedure. One is reciting mantras before 100 Homakundas and the other is to perform Rudra Yagam.
Each Homakunda would contain 11 ritviks (priests) and are seated in south to north direction chanting Chandi Saptashati which are a collection of Chandi mantras.
Why Chandi Homam is performed?
Performing Chandi Homam would resolve issues concerned to Health and Family disputes like divorce, fight between brothers, land and money related issues. Chandi Homam should be performed by people who have dosh or ill effects in their horoscope caused due to planetary placements.
This Homam can also be performed in cases where you want to win over your enemies and other hostility elements in life. People who suffer from Black Magic curse and negative energy can also perform this Homam.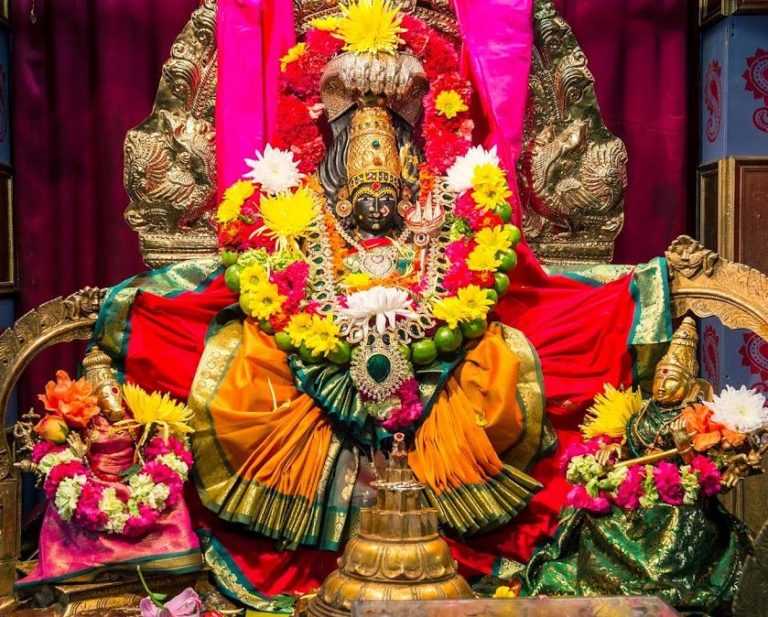 When should I perform Chandi Homam?
The auspicious time to perform a Chandi Homam is during the 9 day Navratri festival. The most favored periods are during Ashtami, Navami, Chaturdasi, Magha, Amavasya, Jyeshta Amavasya, Chaitra, Karthika, Pournami.
Traditionally this puja is performed during the day time and should end before sunset. Other pujas such as Kumari Puja and Suvasini Puja are also part of this ritual.
How to do Chandi Homam at home?
Firstly, install the idol of goddess Chandi along with the idol of Ganapati
Start with Ganapati puja and chant Chandi mantras to invoke goddess Chandi
Now perform the Kalash Sthapna
Setup the fire inside the Homakunda with camphor, dry coconut, dry grass and others
Worship elderly married women, elderly couples and Brahmacharis
Now is the time to chant 7000 Chandi slokas which forms 13 chapters
End with Aaarati.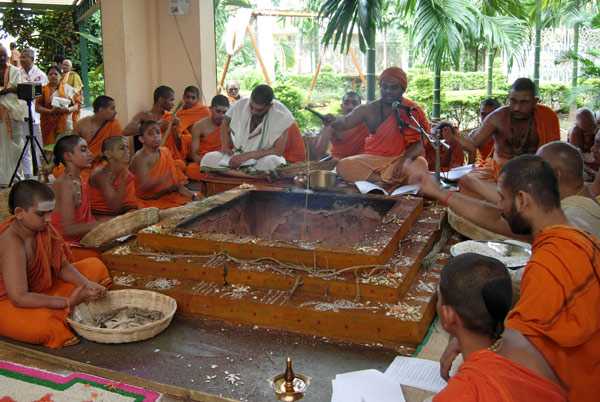 Book Chandi Homam with us on namastegod.com. We offer the complete puja service which includes panditji along with Samagri and if in-case Samagri is already arranged we also provide the flexibility to book a panditji for puja. We have experienced pandits with more than 20+ years in doing puja. Choose panditji based on your language requirement. Try now!