Satyanarayana Puja is one of the most popular pujas in India. This is only one of few poojas that can be performed throughout the year without any restrictions to a specific period or time of the year. Here are some popular queries about the Satyanarayana Swamy Pooja among people that we have covered here along with the best practices and vidhi for Satyanarayana Puja.
We have created a short video that answers all of your queries.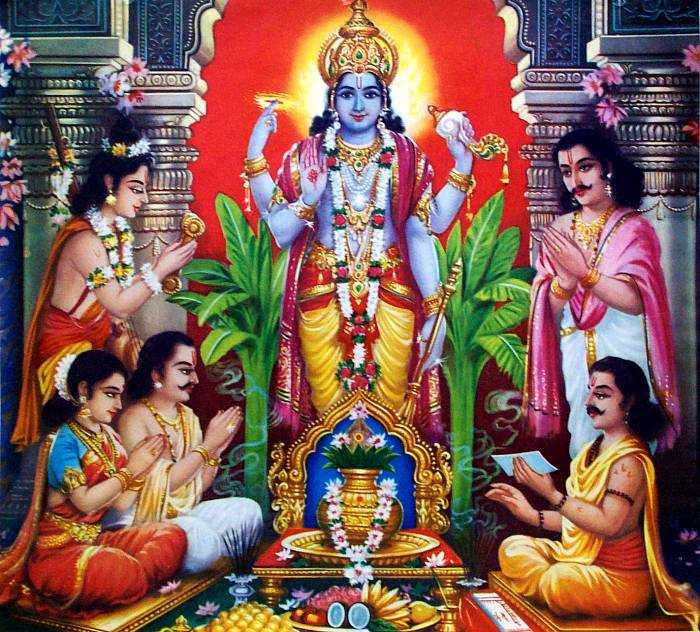 Who is Satyanarayana Swamy?
Satyanarayana Swamy is an avatar of Lord Vishnu. Satya in Sanskrit means truth and Narayana is the twin brother form of Lord Vishnu on the planet earth. And Narayana also means the highest being. Together Satyanarayana means the highest being who is an embodiment of Truth. People worship Lord Satyanarayan to seek blessings and success in their career growth and business. This puja is usually performed along with Griha Pravesh, Marriage and Naamkaran Ceremonies.
When is Satyanarayana Pooja done?
Satyanarayana Pooja can be performed on any full moon day i.e. the Pournami day. Whereas the Ekadasi days are also considered auspicious to perform the vratam. Usually an Ekadasi day falls on the 11th day after Amavasya or Pournami.
Satyanarayana Puja can also be performed to mark the success while purchase of a house, entering a new house, buying some property, starting of a new venture, getting a job, marriage in the house, or the birth of a child. It is usually performed to neutralize adversity and overcome any difficulties with divine intervention.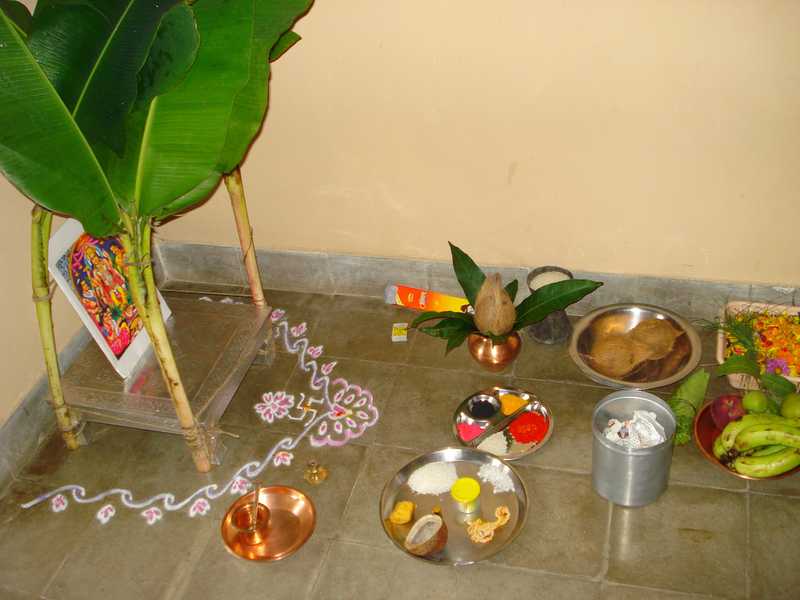 Why Satyanarayana Puja is done?
It is believed that performing Satyanarayan puja at home can bring in lot of success. People who perform this pooja can easily achieve their goals and fulfill all of their aspirations. Taking part in this puja is also considered to improve both the physical and mental health of individuals.
Some people believe this puja increases the overall family prosperity, that is one of the main reasons why newly married couple perform this puja. This pooja is also considered to remove all sins from the previous life.
How to do Satyanarayana Puja at home?
The puja usually starts with a prayer to Lord Ganesha. This is considered vital as worshiping Ganesha would remove all the obstacles that may occur as a result of incorrectly performing this puja.
The next step in this puja is the invoking of navagrahas along with their companions and the eight dikpalakas. Then the main puja starts with the worship to Lord Satyanarayana by chanting the different names of Sri Satyanarayana Swamy.
Another important section is the reading of the Satyanarayana Katha. This Katha gives an emphasis on the origin of the pooja along with the benefits, any misfortunes that occur when people forget to perform this puja along with the importance of the rituals and prasad. Finally the puja ends with Aarti and Prasada with flowers.
Book Satyanarayana Puja with us on namastegod.com. We offer the complete puja service which includes panditji along with Samagri and if in-case Samagri is already arranged we also provide the flexibility to book a panditji for puja. We have experienced pandits with more than 20+ years in doing puja. Choose panditji based on your language requirement. Try now!