Varalaksmi Vratham is one of the most popular pooja in South India, especially in Karnataka (Kannada), Andhra Pradesh (Telugu), Telangana (Telugu) and Tamil Nadu (Tamil). This pooja is well known as Vara Maha Lakshmi Vrata and is very religiously observed by women in these parts of the country. Let us know more about Varalaksmi pooja along with a few common questions about this famous puja.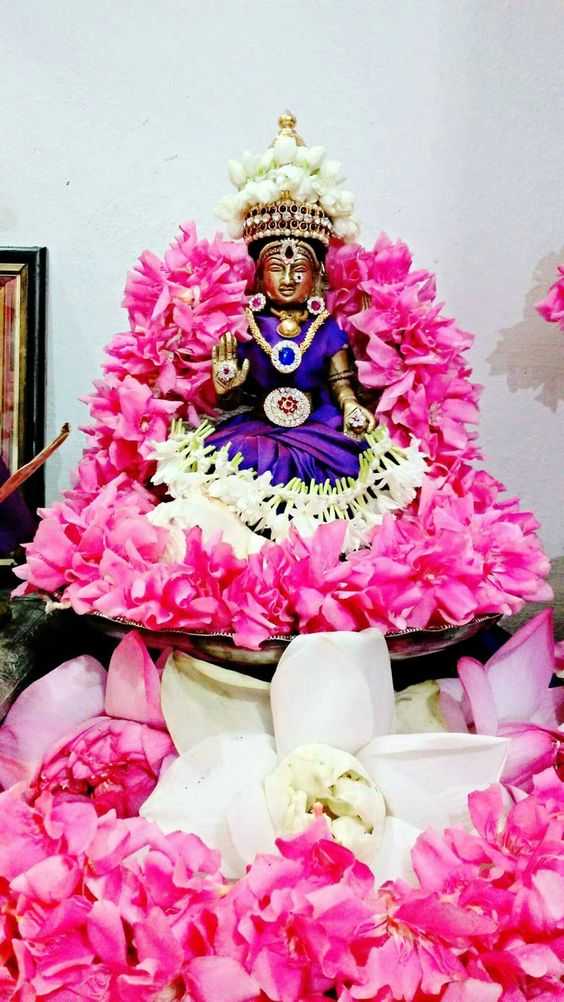 What is Varalakshmi Vratham Pooja?
The Varalakshmi Vratham pooja is the act of worshiping goddess Lakshmi, who is a form of Lord Vishnu. Married women commonly known as Sumangalis, worship goddess Lakshmi and pray for the good health and well being of their loved ones in the family, especially for the long life of their husband.

Women worship goddess Lakshmi as she is symbolic of all the eight forces - wealth known as sri, earth known as bhu, learning known as sarasvati, love known as priti, fame known as kirti, peace known as santi, pleasure known as tushti, and strength known as pushti. All of these forces are together collectively called as Ashta Lakshmulu and worshiping goddess Varalakshmi on this day is equivalent to offering prayers to Ashtalakshmi.

When to perform Varalakshmi Vratham: Varalakshmi Vratham has to be performed on the Friday immediately following the full moon day or the Purnima in the auspicious month of Shravanam which usually falls in August and September.

Story behind Varalakshmi Vratham: Once upon a time, in the kingdom of Magadha, there lived a brahmin woman called Charumathi, who devotedly served her husband and her family. Goddess Lakshmi was impressed by her devotion and appeared to her in the dream and asked Charumathi to worship Varalakshmi to fulfill all her wishes. Charumathi, narrated her dream to her family and other women along with the procedure to perform pooja. As a result, many other women of the town also joined her in performing the pooja as narrated by goddess Lakshmi in the dream. Since then Varalakshmi Vratham was a practice by the married women for the well being of their family and for the long life of their husband.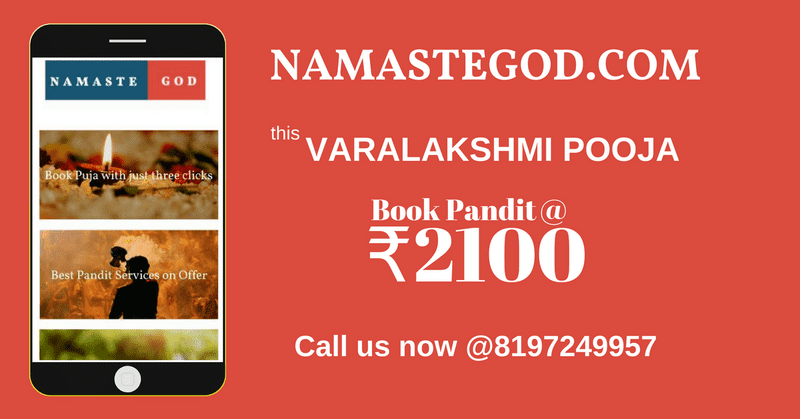 How to perform Varalakshmi Pooja at home?
Auspicious time to start Varalakshmi Pooja: The Auspicios time would be before 10:30 am in the morning. The time from 10:30 am to 12:00 pm noon is considered as the Rahu Kalam. Pooja should be avoided during the Rahu Kalam. Best time to do pooja would be in the morning before 10:30 am or in the afternoon.
Fasting Period: The fasting period starts on Friday morning from sunrise and ends when the pooja is completed.
Items List required for Varalakshmi Pooja:
Face of Goddess Lakshmi (available in market)
New blouse pieces for Kalasham, decoration of puja place
Maamidi Thoranam (Mango leaves garland)
Consecrated Rice - Akshatha
Turmeric powder
Kumkum
Sandal Wood Paste - Chandanam
Betel leaves - Thamalapaakulu
10 - Bananas
3 - Coconuts
Panchamritham
Dry Fruits
Fruits and Flowers
Milk
Naivedyams (Payasam, Purnam Boorelu, Appam, Paruppu Payasam)
Varalakshmi Pooja Vidhanam: The Pooja procedure includes various pujas such as Anga Puja, Thoragrandhi Puja, Shodashopachar Puja including Varalakshmi Vratha Katha, Mantra Pushpam, Vayana Vidhi, Thorabandhanam etc. To know more about the pooja vidhanam you can call us.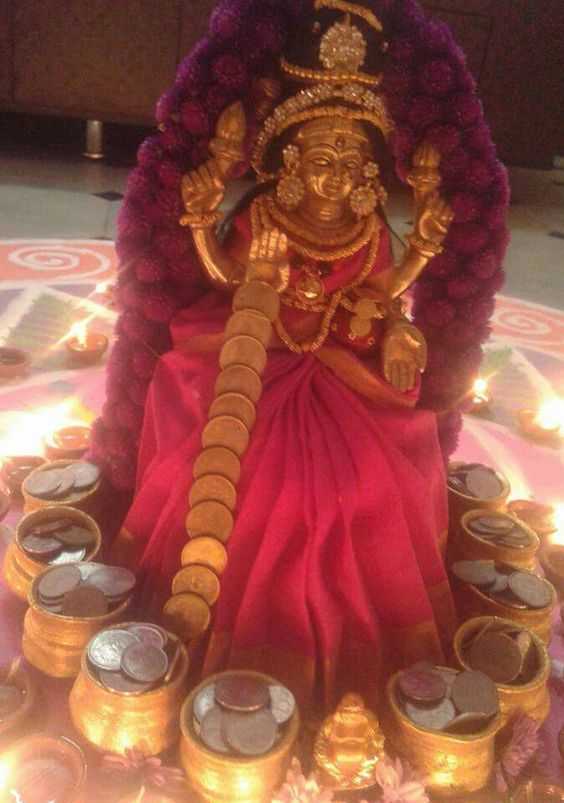 How to decorate Lakshmi for Varalakshmi Pooja?
How to prepare Kalasha for Varalakshmi Pooja: Before you start make sure that the pot is dry. Apply gypsum on the bottom of the pot. Now decorate the pot with Turmeric and Kumkuma dots. Fill the pot with uncooked rice, dried fruits and coins.
Now decorate the neck of the pot with tender mango leaves. Please make sure that the end tip of the mango leaves point in the upward direction.
Decorate the coconut with kumkum, turmeric and sandalwood paste and place the coconut on the neck of pot along with the mango leaves.
Make sure the eyes of the coconut must be on the top and tie a new un-stitched cloth around the pot. And finally decorate the pot with garland and flowers.
We have a small video on how to decorate the Kalash on Varalakshmi Vratam at home in tamil
How to tie Saree for Varamahalakshmi Kalasha: You can drape any saree to goddess Lakshmi. As goddess Lakshmi is a symbol of Sumangali, a married woman, she should be draped only in red or green sarees along with Mangalsutra, Bangles and Kumkum as these items add the meaning to a perfect Sumangali. Here are some of the saree options.
Silk Sarees
Mysore Silk Sarees
9-Yard Saree
Kanchivaram Silk Sarees
Konrad Silk Saree
Patola Silk Saree
We have another video on how to tie saree for Varalakshmi Kalasha in Kannada.
Book Varalakshmi Puja with us on namastegod.com. We offer the complete puja service which includes panditji along with Samagri and if in-case Samagri is already arranged we also provide the flexibility to book a panditji for puja. We have experienced pandits with more than 20+ years in doing puja. Choose panditji based on your language requirement. Try now!