About 30,000 deaths happen in India every day and it is essential to let these souls rest in peace. Is there any puja to remember or pay respect to the departed loved souls? Continue reading this space so that you can find answers to these questions.
We have created a small video answering all of these common questions around Shraddha and Pitrupaksha. Please check this out.
What is Shraddha Ceremony?
Shraddha is derived from two Sanskrit words, Sat which means truth and Adhar which means basis, together it means an activity which is performed with faith, hope and discipline. Shraddha is a way to express the unconditional love and respect to ones ancestors soul. Shraddha is also called as Pind daaan ceremony where Pind means body and daan means charity, so this ritual is considered as providing charity to the body of the deceased.
What is the origin of Shraddha? Once there lived a King called Nimi Rishi whose grand father was Lord Brahma and his father was Rishi Atri. Nimi Rishi lost his son at a very young age and was severely sad and depressed. He then performed puja with the help of Narada Muni to invoke the souls of people who have died (mainly their relatives and family members). Soon one of his ancestors appeared and informed that his son is among the Pitradevas and the puja that he has performed is similar to the Pitri yagna. From this time on-wards Shraddha is considered very important among the 16 Samskaras.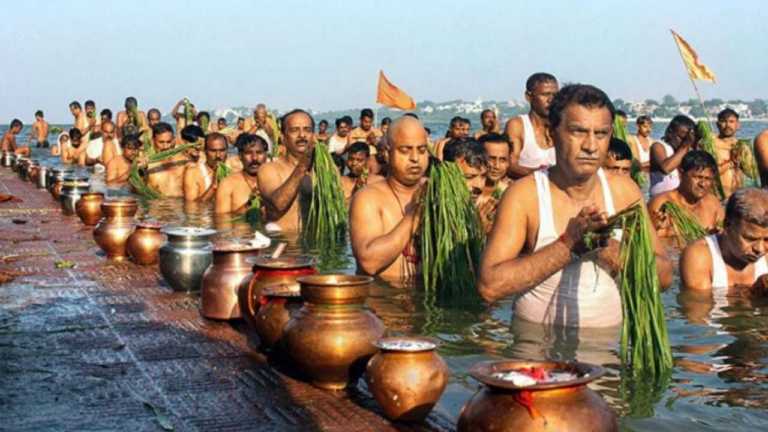 Why do we perform Shraddha?
Shraddha is performed in order to pay homage to their God and ancestors. It is also considered as one of the ways to repay their karmas. As we donate food and clothes during the Shraddha ceremony, it also cultivates good habits in them.
By performing this ritual, we would be connected to our ancestors so that we don't forget them completely.
What is Pitrupaksha and its significance?
Pitrupaksha means the fortnight of the ancestors and is also is a 16-day Lunar period in the Hindu Calendar. It is also known as Pitru Pokkho and Sola Shraddha or Mahalaya Paksha. According to the Hindu tradition it is believed that the ancestors in Pitrupoka, the world of the departed souls would visit the earth during this period and accept the things given by the descendants.
What is Mahalaya Amavasya? Mahalaya Amavasya is the new moon day that appears during the Pitrupaksha period and this symbolizes the end of Pitrupaksha. It is believed that, this is the day on which the sould return back to Pitrupoka. Pind tarpan performed during this period is considered auspicious. Mahalaya Amavasya is also called as Sarvapitri Amavasya.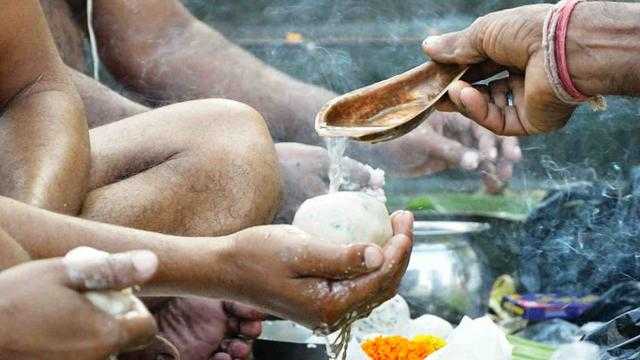 What time does Pitrupaksha start and end?
Pitrupaksha falls on the second paksha in the Hindu Lunar Calendar on the month of Bhadrapada, according to the Gregorian Calendar, it falls in September. It follows the fortnight immediately after the Ganesh festival. The first day of the Pitrupaksha is called as the Pratipada and ends with no moon day or the new moon day called as the Sarvapitri Amavasya or the Mahalaya Amavasya. It is during this period the autumnal equinox falls, which means the Sun's transitions from North to Southern hemispheres.
In North India and Nepal, as they follow the Solar Calendar, Pitrupaksha may fall on the Luni Solar month of Ashvin instead of Bhadrapada.
How to do Pitrupaksha Shradh pooja at home?
Install the idol of Lord Vishawadeva, where the asana can be made up of Silk, Wood or Grass. Iron should be avoided as it upsets Pitras.
Prepare rounded heaps made of rice, milk, ghee, sugar and honey called as Pinda which has to be offered to the departed ancestors soul. This activity should be performed with devotion, respect and sentiment.
Water is mixed with black sesame seeds, barley, kusha grass and white flour and is offered to the ancestors, this procedure is called as Tarpan. The souls of the ancestors are pleased by performing this activity.
Food should be fed to the Brahmins or Brahmacharis, sometimes it is also offered to crows.
Money, Clothes and other essential items are denoted to the Brahmins or the needy during the last of the Pitrupaksha which is the Mahalaya Amavasya day.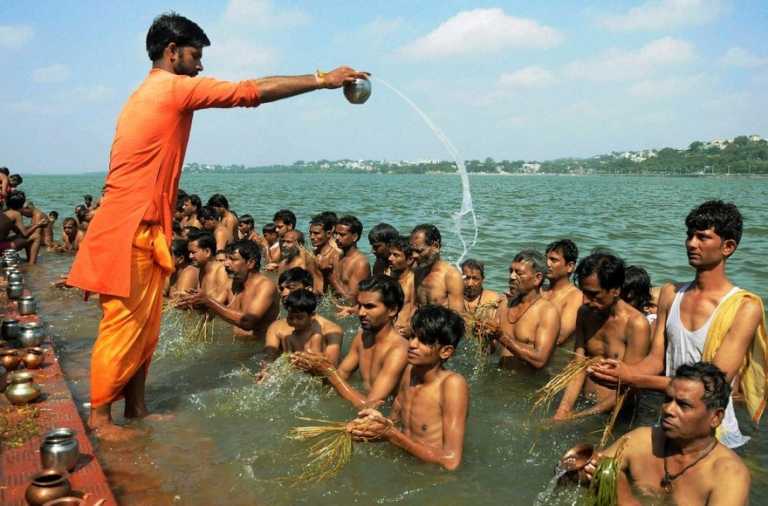 What not to do during Shradh period and Pitrupaksha?
This period is not considered good for any new beginnings. It can be as small as buying new clothes, shaving or cutting the hair to as big as Marriage ceremony or starting a business. These events if necessary have to be postponed so that they don't fall during this period.
Taking non-vegetarian food, onion and garlic are avoided. The person performing these rituals should be away from pleasurable activities.
Book Shraddha with us on namastegod.com. We offer the complete puja service which includes panditji along with Samagri and if in-case Samagri is already arranged we also provide the flexibility to book a panditji for puja. We have experienced pandits with more than 20+ years in doing puja. Choose panditji based on your language requirement. Try now!