One of the most prominent events in life is when when you are about to name your child. This is regarded as one of the most important samkars of the 16 samkars available as per Hindu tradition. The Baby Naming Ceremony and Baby Ear piercing rituals are famous not only in India but also in Hindu prominent countries such as Sri Lanka, Nepal, Singapore, Bangladesh, United States of America, Dubai and United Kingdom. Let us know more about these popular rituals in detail.
We have created a small video answering all of these common questions around Baby Naming Ceremony and Baby Ear piercing. Please check this out.
What is Baby Naming Ceremony?
Baby Naming Ceremony is popularly known as Namkaran, which is derived from two Sanskrit words, Nam meaning name and Karan meaning create. In some of the other traditions, this ritual is also called as Palanarohan, which is again derived from two Sanskrit words, Palana meaning cradle and Arohana meaning on-board, which together means putting child into Cradle.
In simple words Namkaran means the ritual where we use traditional and astrological methods for selecting a name to a newly born baby.
When is Namkaran held?
Namkaran is performed after the ritual of Jatakarma samskara and is held 11 days after birth of the child, preceding Shuddhikaran period, where both mother and child are confined to post natal care.
Apart from the 11th day, Namkaran can also be performed on the other days as well as per the advice of the priest or astrologer and can also go till the baby's first birthday.
What is Jatakarma: Derived from a Sanskrit terms jata, which means born, brought into existence and karman, which means religious activity or rite. in total jatakarma means performing rite when one is born or birth ceremony.
How is Hindu baby's name selected?
There are 5 standards or principles on which the name of a new born baby is selected.
Nakshatranam: Which means movements of planets and stars
Masanam: According to the month of the birth
**Devatanama: **The family deity or God
Rashinama: According to the Zodiac signs
Samsarikanama: Should be a worldly name
It is preferred to have the baby boy's name in which the letters are even numbered whereas for girls it is odd number.
What to wear and buy for a Naming Ceremony?
When invited for a Naming ceremony, men should wear white or yellow dhotis and for women, traditional dresses such as sarees and chudidhaars are preferred.
What to buy for a Naming Ceremony: There are a variety of items to choose from such as baby clothes, cradle, jewellery, books, bedding or blankets and stuffed toys.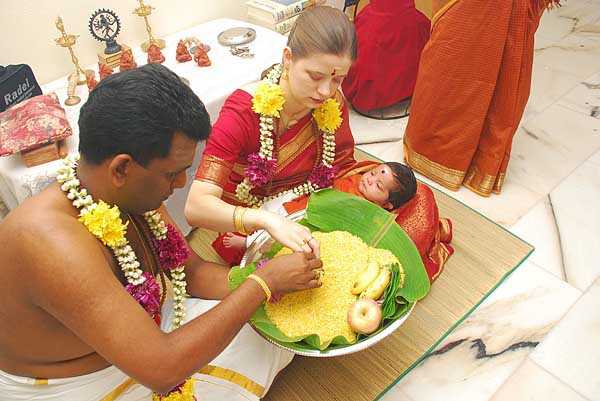 How to do a Naming Ceremony?
Select muhurtham with the help of a priest
Pray to god of fire, Agni, the elements and spirits of the ancestors
Father should write the name of the baby on the rice grains which are spread on the bronze thali with a golden stick by chanting the deity or God's name
Whisper the baby's name into the child's right ear. Repeat this procedure for 4 times along with prayers
All of the guests present should repeat the mantras after the priest to formally accept the name
Next, the astrologer will present the child's horoscope
Ends with blessing and gifts given by elders and with a feast with family members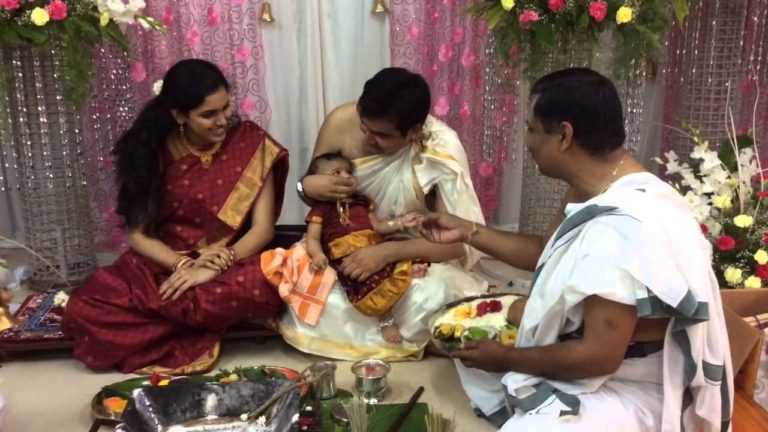 Why Ear piercing for babies?
The Ear piercing ritual is performed as it opens the inner ear for receiving sacred sounds. Hearing these sacred sounds will cleanse the mind and nurture the spirit. This ritual will also maintain the regularity in the menstrual cycle in girls.
Behind the ear lobe, there is a small microscopic depressions which contain nerve endings and this is linked to diseases such as asthma, cough and tuberculosis. It is believed that puncturing this area will avoid the occurrence of all these diseases.
When can we pierce baby's ears?
The procedure of ear piercing should be done atleast after 6 months when the baby is born. It is believed that this is the perfect time where the baby's immune system is developed to fight against the potential infections and would also have a first round of vaccinations.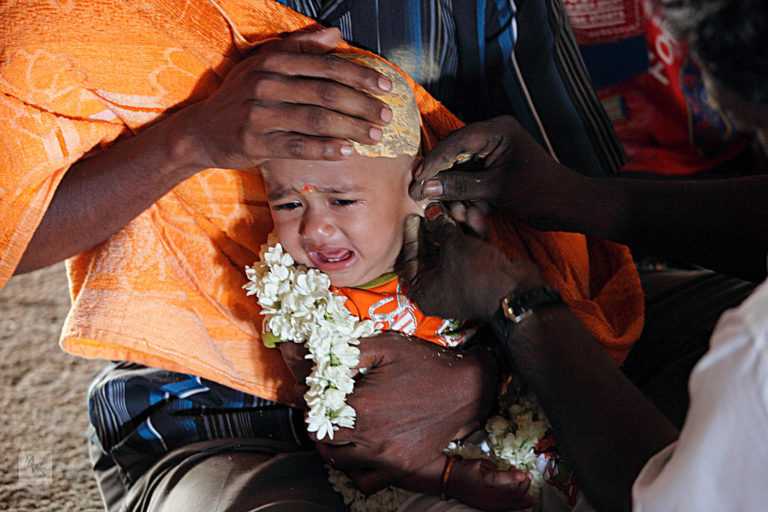 Where to get Baby's ears pierced and Who does Baby ear piercing?
The baby ear piercing ritual is performed in temples, function halls or in their houses. This activity is usually performed by surgeons or gold smiths where they pierce the baby's ear lobes with gold, silver or copper needles. The baby is placed on the lap of their mother facing the east direction. The ear is then covered with cotton with oil in it.
Then the needle is pierced gently with one stroke and medicine is applied to the holes so that the holes aren't infected. This ritual is performed for baby boys on their right ear whereas for girls it is the left ear.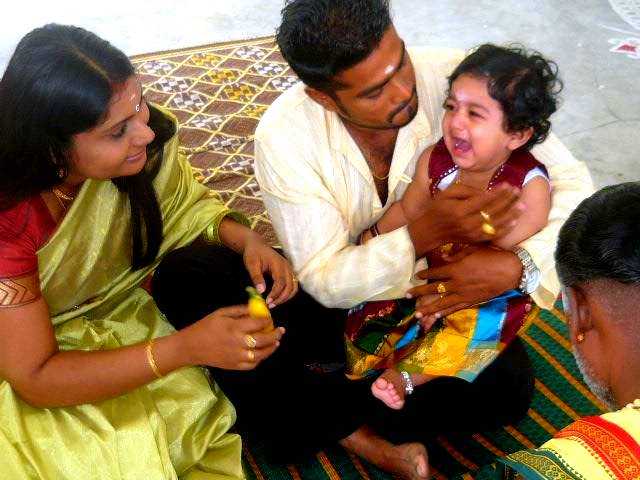 Book Namkaran Puja and Baby Ear Piercing Puja with us on namastegod.com. We offer the complete puja service which includes panditji along with Samagri and if in-case Samagri is already arranged we also provide the flexibility to book a panditji for puja. We have experienced pandits with more than 20+ years in doing puja. Choose panditji based on your language requirement. Try now!