Ayudha Pooja is one of the most traditional festivals celebrated across India, especially in the states of Andhra Pradesh, Karnataka, Tamilnadu, Telangana, Kerala and Odisha. This is a popular festival in other countries as well such as United Kingdom, United States of America and other South East Asian countries. Let us understand more about this popular puja in detail.
We have created a small video answering all of these common questions around Navratri. Please check this out.
What is Ayudha Pooja?
Ayudha Pooja which is also called as Astra Puja is a worship of instruments. Goddess Saraswati, Lakshmi and Parvati are worshiped during this puja. The history behind this popular puja is that, this puja was performed by Mysore Maharaja and another instance of this puja is before the battle of Kurukshetra, where on the Vijayadashami day, Arjuna took out the weapons which were hidden under the Shami tree and was victorious in the battle of Kurukshetra.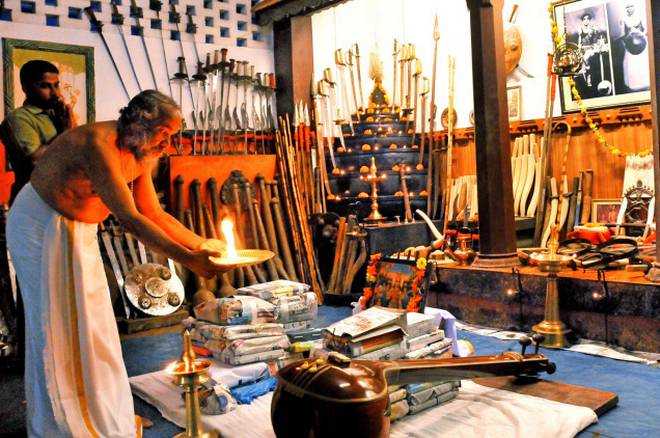 When is Ayudha Pooja?
Ayudha Pooja falls on the ninth day or navami of the Navratri festival. It is celebrated on the bright half of the Hindu Luni Calendar month Ashvin which according Gregorian Calendar falls on the September/October months.
The month of Ashvin begins on the new moon day just after the autumn equinox, the time or date at which the sun crosses the celestial equator, when day and night are of equal length (22nd September and 20th March). As per Jyotishya, Ashvin begins when Sun enters in Virgo.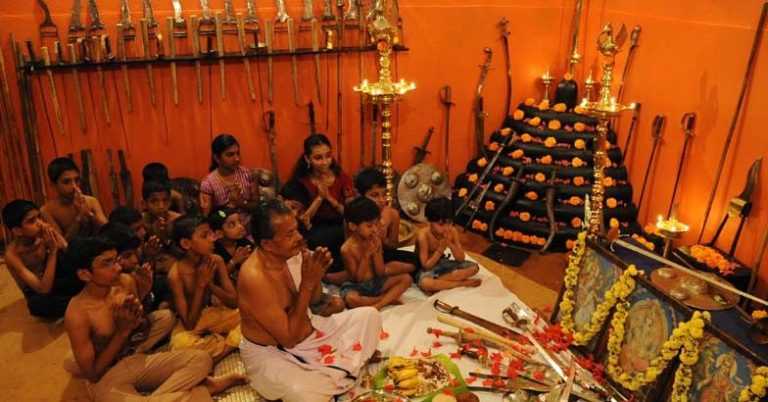 Why is Ayudha Puja celebrated?
Everything that we use in our daily life such as plough, musical instrument, laptop etc have to be respected. This puja marks the worship to all these items that we use everyday.
A small example of this can be the use of internet daily. When used in a proper manner to acquire knowledge and serve people, we can build great companies and acquire knowledge, also the same internet can be used to hack and destroy an entire nation. The work and the items respected will come out with beautiful colors.
How to celebrate Ayudha Pooja at home?
Apply sindoor and kumkum to all the tools and machines the we use daily.
Along with this tie banana saplings to the doors and vehicles.
Offer flowers, tamboolam, naivedya.
Offer aarati and chant mantras.
Pumpkins and Lemon are used to avoid the evil eye, therefore these are smashed by the tools and machines on this day.
All these tool and machines after the puja can be used in the Vijayadashami day.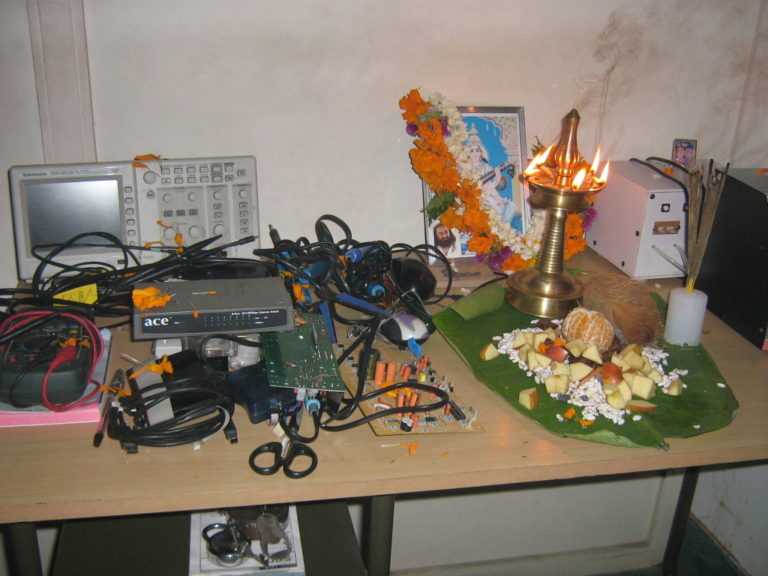 Book Ayudha Puja with us on namastegod.com. We offer the complete puja service which includes panditji along with Samagri and if in-case Samagri is already arranged we also provide the flexibility to book a panditji for puja. We have experienced pandits with more than 20+ years in doing puja. Choose panditji based on your language requirement. Try now!