The joy of watching your kid grow up is considered as one of the finest moments of life. And yes Annaprasana is one such memorable event in every parents life. As parents we often want the best things to happen to our kids - best food, best education, best house and so on. Annaprasana puja is considered as the initial step to huge remarkable and memorable events to come in a child's life. We pray God to bestow all the best things in life to our kids on this day.
We have created a small video summarizing the steps and the need to perform the Annaprasana pooja. Please have a look as we elaborate on each step.
For the first time parents, Annaprasana can be little confusing with many questions such as
What is Annaprasana Pooja?
Annaprasan is a Sanskrit word which means rice initiation. This ritual marks the beginning of the phase where the baby starts consuming solid food. Annaprasana is also called as Choroonu in Kerala, Mukhebhaat in West Bengal, Bhaatkhulai in Himachal Pradesh.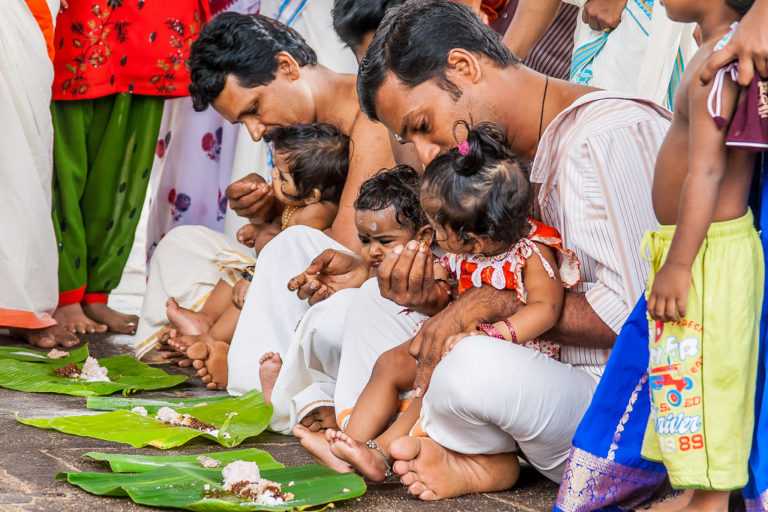 When to do Annaprasana for baby boy or girl?
Annaprasana can be performed when the baby turns 6 months up-to 1 year old. Usually for the baby boy, this ritual is performed in the 6th or 8th month. For the baby girl, it is performed in the 5th or 7th month. This is considered as the optimal time to perform this ritual as this is when the baby's teeth start to appear and is ideal time for baby to absorb all the nutrients from solid food which are essential for their healthy growth.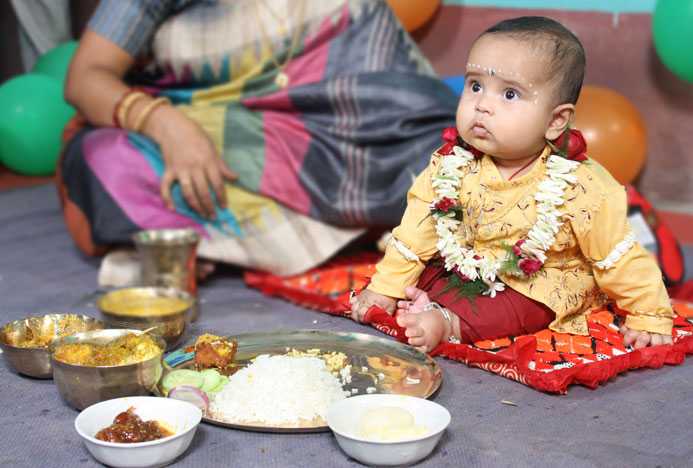 Why do we do Annaprasana?
As Annaprasana marks the event of first time rice consuming for the baby, this ritual is considered of great importance for the parents and their family. This ritual is also an age old tradition observed in South Asia, Iran and by Parsi people.
How to do Annaprasana at home?
This ritual starts with Ganesh Puja followed by Navagraha Puja.
During the Puja, it is advised that the parents should sit in the East direction with the baby on their lap.
The father should feed the baby three times by chanting mantras.
Finally the puja would end with Jeevika Parikaha
What is Jeevika Parikaha: A ritual where several objects would be placed on a banana leaf and the baby is asked to touch these objects. The first touched object would decide the interest and the future of the baby. These objects usually include books, pen, jewels, kumkum, haldi and food items.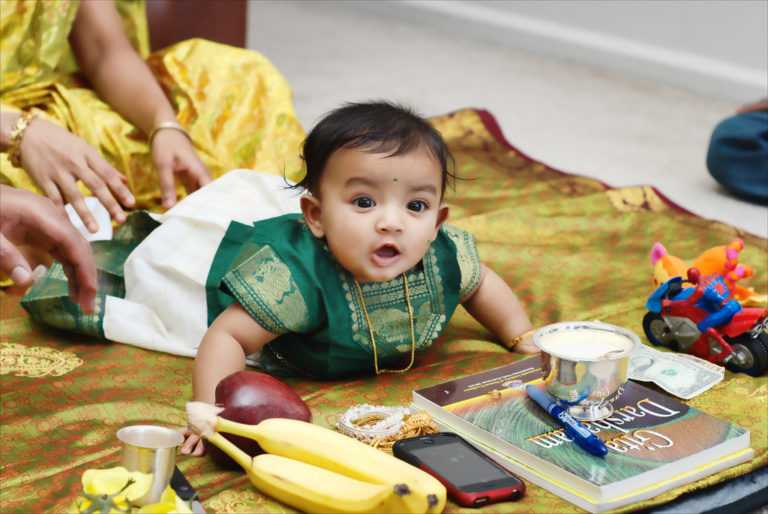 Book Annaprasana Puja with us on namastegod.com. We offer the complete puja service which includes panditji along with Samagri and if in-case Samagri is already arranged we also provide the flexibility to book a panditji for puja. We have experienced pandits with more than 20+ years in doing puja. Choose panditji based on your language requirement. Try now!